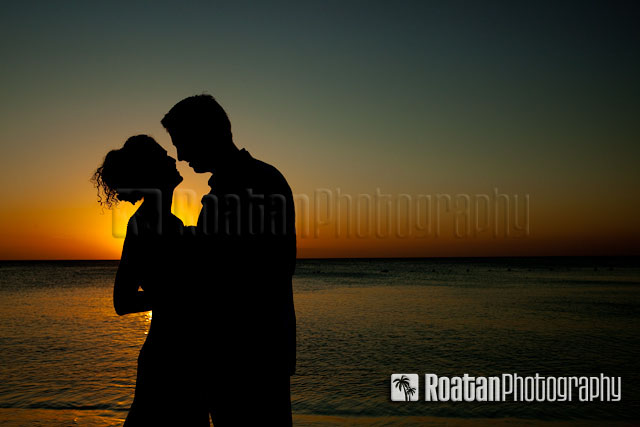 When planning a destination wedding to the beautiful island of Roatan, most couples have lots of ideas of just how they want everything to play out. For a destination wedding on a tropical caribbean island, that often means a sunset wedding on the beach. The beach can be a great place, and sunset is definitely a great time, but for the best photos, timing is everything. If you have never been to Roatan, you may not realize that the sun sets much earlier than in the north. When planning for your sunset wedding photos, keep in mind that the best time for photos will be about 30 minutes before, and 20 minutes after sunset. After that, the beach and sea will be dark, and few resorts have sufficient spot-lights for photos on the beach. If you are planning to have romantic couple shots as well as posed group photos on the beach after the ceremony, be sure the ceremony will finish with sufficient time for daylight photos afterwords.
Because sunset time changes throughout the year, I use this handy time tool to see when it will be setting at any time of year. Using this, I can see when the sunset is for a wedding 3 or 6 months in the future, and make a recommendation to the bride and groom accordingly.
To find out more about sunset wedding photos from Roatan Photography, visit our Wedding Photography information page.